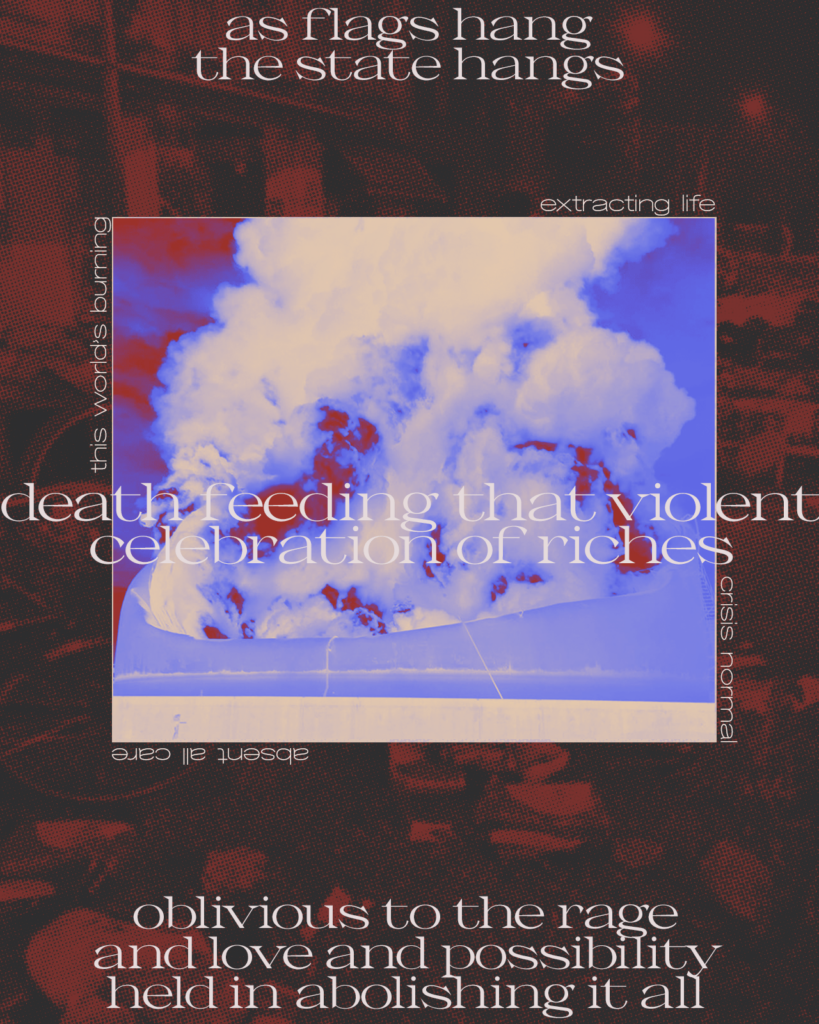 With such stubborn adherence to so-called "justice" and "peace", they've killed another man. The fifth in four months. There's just grief and anger, which reinforce further how we must move past (think past, plan past, make past) the nation state and capital for other, better ways of collective life. On the housing blocks, council-installed flags line the corridors pretending everything's fine.
Why is there still belief among "progressives" that there's anything to trust or save in these institutions? You may argue "giving up is what they want you to do" but who said anything about giving up? If anything, there is greater, not less, desire for dismantling as more clarity is gained of how oppressive systems work.
the state hangs
The noose is connected to the statute, to the border, to the enforcers and fencekeepers, to the materials and labour extracted en masse, to the regimes of discipline and civility, to the control of bodies and behaviours through race, ableism, and patriarchy, to our atomisation, competition, and powerlessness. All of this already understood instinctually by many.
They announce the extent to which fear can and will be wielded as a weapon of subjugation, which is to plainly say: work or die. Two sides of the equation upholding who stands to benefit from productivity, and who they can get rid of. It's evident even in how this pandemic has been "managed", now invisibilised people can be forgotten because the "very low" death rate is "acceptable" and we can "return to normal".
It's not just a specific type of retributive punishment that must be opposed, but the very idea of the punitive as a fundamental way of order.
Can we imagine a world where entire "supply chains" are rethought, our social and ecological relations transformed, such that things like food, water, housing, care, medicine, education, energy, aren't commodities to be fought and died over? Property's dissolution necessarily means radically reshaping ideas of justice. Maybe it's far off, or maybe it can start right here and now.
Hold one another in our feelings of rage and disappointment, friends, guide each other through confusion and despair, and keep dreaming, fighting, building.
---
[Image description: A rectangular portrait image with text laid over rather abstract visuals. The background is made up of a halftone photo in dark red and grey of what looks like an object-strewn street after a riot. Large lowercase serif text in white occupies the top, middle, and bottom of the frame, reading:
"as flags hang
the state hangs
death feeding that violent celebration of riches
oblivious to the rage and love and possibility
held in abolishing it all"
In the middle of the frame superimposed by the above text is an inset square colour-reversed photo in contrasting beige, purple, and dark red of what looks like a massive oil storage tank engulfed in flames and smoke. Small lowercase sanserif beige text lines each edge of the square, reading: "this world's burning / extracting life / crisis normal / absent all care"]